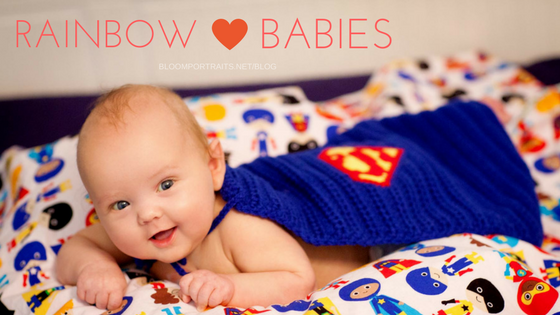 Learn what a rainbow baby is and hear an inspiring, heartbreaking and joyful story from one of our amazing clients.
By: Megan Elvrum | Studio Manager & Rachael Klos | Dear Client and Friend
Working at Bloom Portraits, I've been blessed to be apart of many families' stories. I've been able to photograph them, write about them and share them with you! I've witnessed so much excitement and love that it fills up my heart and I feel apart of so many families.
But not everything can be perfect and because of that, I think it is important to share the struggles we all go through as well. Sharing helps us heal, remember and encourage others. I do it on my personal blog and our client Rachael does it on hers.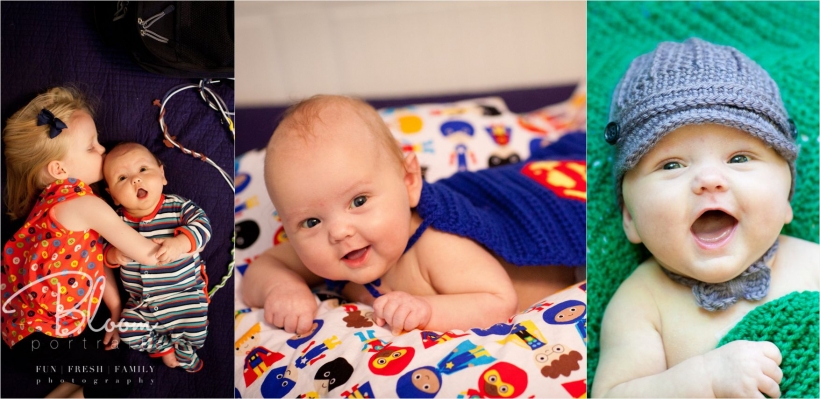 What is a rainbow baby?
A rainbow baby is a baby born shortly after the loss of a previous baby due to miscarriage, stillbirth or death in infancy. The name Rainbow Baby is given to these special babies because a rainbow always follows a storm, giving us hope.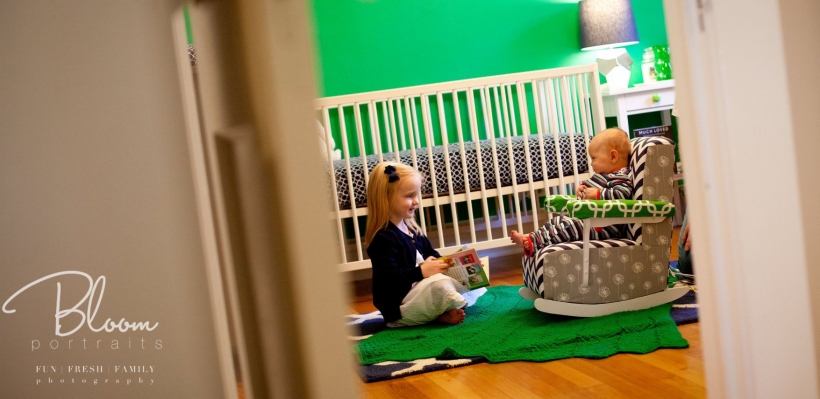 Here is Rachael's story:
Our daughter, Phoebe, was born in June of 2011 and everyone was happy and healthy. We took EVERYTHING for granted, because people like us just don't have anything but healthy babies, right?!  We all lived the first 2.5 years of Phoebe's life in blissful ignorance.
Our first son, Henry, was conceived in the summer of 2013 and we found out that December (at our 20 week ultrasound) that he had Gastroschisis. Henry's abdomen didn't fully close in utero and some of his intestines would be outside his body at birth. We were prepared for a short NICU stay while Henry recovered from surgery to repair his intestines and learn how to eat and digest. But when Henry was born on April 3, 2014, 90% of his intestines had already died. Most of his gut was immediately removed in an emergency surgery moments after his birth. Henry's reality was suddenly vastly different than that for which doctors had prepared us.
Our lives were completely and irrevocably changed in an instant.
In our 3.5 months in the NICU, it was slowly determined that Henry's body couldn't handle anything but his IV nutrition – my milk and a variety of special formulas were all harmful to Henry's compromised system.  It was determined that there would never be any "fix" to Henry's body; he would always live his life with the help of machines. So ultimately, with much support from his medical team, we chose quality of life over quantity of days for Henry.  Instead of putting him through scary surgeries and painful procedures in order to get just a little bit more time with him, our goal was to get Henry home and show him the world. We were positive that Henry would have wanted the same.
We transitioned home with support from an incredible palliative care company and we became Henry's full time nurses. We lived the next 6 months with a passion to experience all that we could for Henry – we didn't know how long we'd have with him, so we lived as if each day could be his last.
In September of 2014, we had an epic Superman party at our home. Friends, family and neighbors joined us and we had an incredible celebration of Henry. That night, our magical little soul gifted us with the miracle of our rainbow.  


Soon after, we discovered that we were pregnant again.  Our blessings continued, right along with our incredible sorrows and the worst possible fears.  As the health of Henry's body continued to decline, we were faced with the impossible truth:  we must prepare to welcome another beautiful child of ours while simultaneously saying our final goodbye to our precious baby boy.
In the early hours of January 18th, 2015, while cradled in his daddy and mama's arms at home, Henry's magical soul slipped away from his broken body.  And the single thing that kept my heart beating when Henry's stopped, was the fact that I was carrying his gift to us.  I knew in my heart that Henry was watching over our rainbow baby and that I must carry on for our family.  
Four and a half months after his big brother left our arms forever, our perfect little rainbow, Truman, was born into them.  While we miss Henry with all that we are, we give thanks every day for the joy that was reborn into our family with our rainbow baby's healthy arrival.  We will live the rest of our lives with our painful grief, but the love and light that Truman has brought with him has literally saved us.
Sharing Henry's magic with the world helps me to feel closer to him. It's one of the only ways that I can parent my son and therefore it is incredibly important to my life. I welcome you to spend some time on my blog, and learn more about the beautifully heartbreaking story of my little family: http://thelittlestklos.blogspot.com/